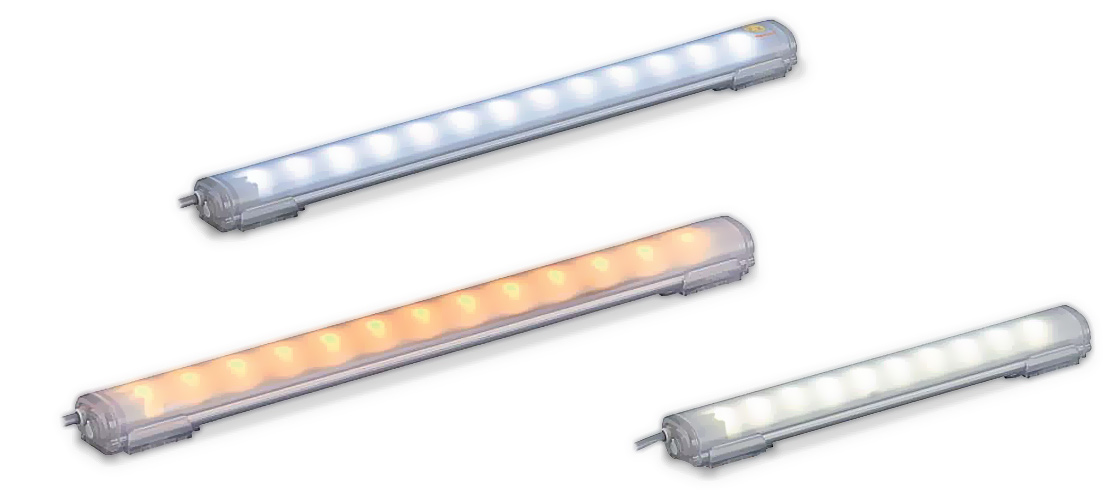 LED light bars and work lights
Efficient & bright machine lighting
Patlite design and manufacture light bars, work lights and spotlights with LED bulbs. These are ideal for machine tools, illumination of control panels, food medical and chemical machinery. Compared to conventional florescent tubes, energy saving is 50% or more and the supply is a safe 24 V DC. They are cool running giving comfort to machine operators. Illumination is even with high brightness. Operating lifetimes are in excess of 40 k hours.
Type CWA light bars NEW
CWA light bars are economic general-purpose models designed for operator friendly machine lighting in industries such as printing, machine tools and product inspection. Enclosure is IP65 and output levels are up to 990 lux at day light colour 6,500K.
Casing: polycarbonate with stainless steel fixings
Lengths: 300, 600 & 900 mm
Connection: flying leads
Supply: 24 V DC, 6 W at 300 mm to 18 W at 900 mm
Mounting in any orientation
Type CLK light bars
These work lights are robust with metal casings and are resistant to water, oil and chemicals. Enclosure is certified to IP66G, IP67G and IP69K. They give very high illumination up to 2,100 lux at 1m with models for daylight (6,500K) or natural white (5,000K).
Casing: aluminium or stainless steel
Lengths: 200, 300 & 600 mm
Lens: micro-array for even lighting
Lens cover: tempered glass or acrylic
Connection: Optional M12 connectors, can be daisy chained.
Supply: 24 V DC, 8 to 25 W
Type CLA light bars
The polycarbonate construction of the CLA light bars has enclosure to IP69k and withstands steam jet cleaning up to 80ºC. This makes it ideally suited to food machinery. The CLA is certified by ECOLAB Deutschland for use in the food and beverage industries. The IP69k protection has passed complete immersion and cleaning tests with P3 acid disinfectant, alkaline foam cleaner and acid foam cleaner.
Seven lengths are available from 100 to 1,500 mm and colours are daylight (6,800 K), natural white (4,800 K) or yellow/amber designed for PCB production and inspection. Maximum brightness is 1,625 lux at 500 mm.
Body materials: polycarbonate resin
Lengths: 100, 200, 300, 600, 900, 1,200, 1,500 mm
Connection: flying leads 0.5 or 3.0 m long
Mounting: simple clip-in brackets
Supply: 24 V DC, 2.5 to 29 W
Type CLN work lights
These LED spotlights put bright white light exactly where you need it. They are ultra-efficient with power consumption of only 3 W at 24 V, so heat build-up is negligible.
CLN work lights have an 85 mm square body and a thickness of only 22.2 mm. Construction is aluminum alloy frame with tempered glass which is resistant to water, oils and coolants. They are certified to IP66G, IP67G and IP69K.
Daylight models have an output of 820 lux, warm white models 620 lux. Ambient temperature range is -40 to + 60ºC.