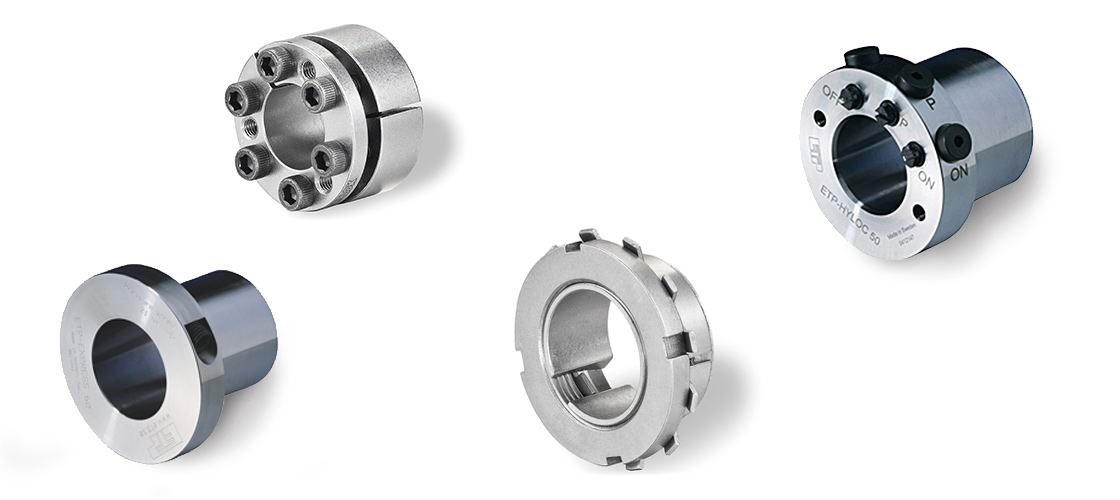 Locking elements, clamping sets, locking bushes
Locking elements for a backlash-free, friction-fit shaft-hub joint
Backlash-free and friction-fit transmission of torques and axial forces between shafts and hubs – no problem with the right clamping system, such as a mechanical clamping set (internal clamping set), shrink disc (external clamping set), hydraulic locking bush or hydromechanical locking bush. Increases in productivity and reductions in set-up times and standstills are two important factors today. The choice of the correct shaft-hub joint is therefore crucial.
Generally, a distinction is made between three types of shaft-hub joints
Friction-type connections utilising a clamping set, locking bush, shrink disc, and locking element
Substance-to-substance connections such as welding, soldering, or adhesive bonding
Form-fit connections such as featherkey connections, splined shafts, and polygonal couplings
Advantages of a friction-fit shaft-hub joint over featherkey connections
Optimally suited for servo drives and reversing duty thanks to backlash-free torque transmission
Permanent and non-destructive connection (connection does not wear out) without fretting corrosion
Faster and easier assembly and disassembly (also for frequent assembly, depending on respective locking element)
Torque transmission with simultaneous acceptance of axial forces
Ability to perform positioning in the axial direction on the shaft
Larger tolerance field in the shaft-hub diameter range without a particular surface quality
Function of mechanical clamping sets / internal clamping sets
Clamping sets are friction-fit, removable shaft-hub joints and are used on smooth, non-slotted shafts and bore holes. For the mechanical clamping set (internal clamping set), the tightening of axial screws results in two conical surfaces being offset against each other and an expansion against the shaft and hub.
Standard versions for shaft diameters from 6 mm to 800 mm and torques from 6 to 2,131,000 Nm.
Function of mechanical shrink discs / external clamping sets
The shrink disc is attached to the hub and generates surface pressure between the shaft and hub by reducing its inside diameter. This enables high torques to be transferred backlash-free.
Standard versions for shaft diameters from 9 mm to 540 mm and torques from 20 to 4,028,000 Nm.
Function of hydraulic locking bushes
Hydraulic locking bushes are double-walled steel sleeves that contain a hydraulic medium. Pressure is exerted on the medium by tightening a radial pressure screw. This results in a uniform expansion of the steel sleeve against the shaft and hub. Loosening the screw causes the locking bush to return to its initial state. The shaft-hub joint can be dismantled.
Standard versions for shaft diameters from 15 mm to 130 mm and torques from 46 to 15,500 Nm.
Function of hydromechnical locking bushes
The hydromechanical locking bushes consist of a double-walled steel sleeve with an integrated, movable conical piston. The piston is moved using a hydraulic pump. This causes the sleeve to expand against the shaft and hub and create a friction-locked connection. During disassembly, the piston is moved in the opposite direction and the connection is released.
Standard versions for shaft diameters from 30 mm to 220 mm and torques (depending on shaft tolerance and installation pressure) from 800 to 338,000 Nm.
We would be glad to help you with selecting the appropriate shaft-hub joint and the dimensioning of the locking elements.
Lenze Selection United Kingdom