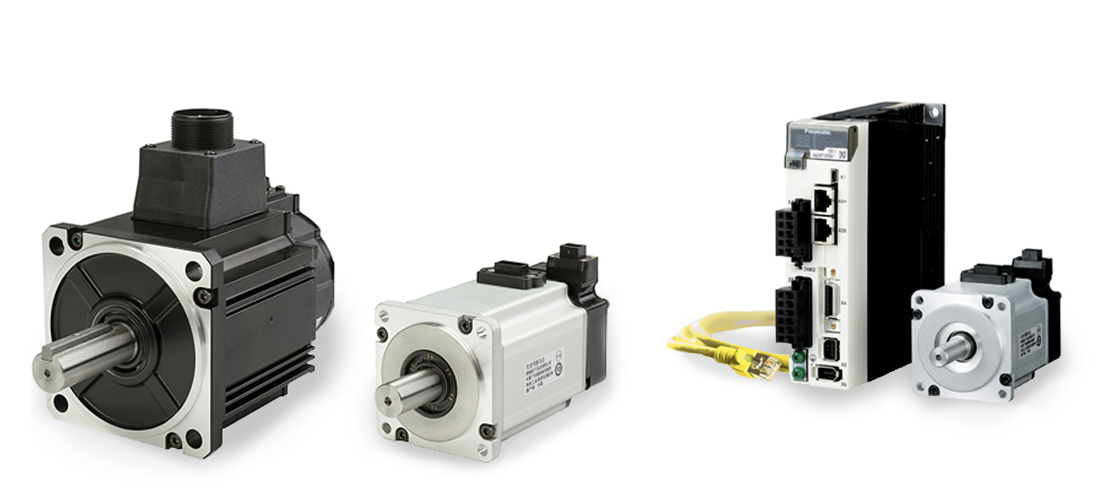 PANASONIC A5 servosystems
Dynamic motors, geared motors & drives
The new Panasonic MINAS A5 servo system comprises compact low inertia servo motors with high response and extremely accurate servo drive controllers in a power range 50 W to 5.0 kW. A stock range for fast deliveries is available in a range 50W to 1.5 kW. Also available in the complete servo system are braked servo motors, geared servo motors and servo amplifiers with Safe Torque Off.
Summary:
a complete AC small servo drive system from Panasonic
readily available in the UK with technical support
compact AC brushless servo motors (servomotors) & geared motors
analog and digital servo drives for 1-phase supply
EtherCAT capability for economic control systems
free software for parameterisation & diagnostics
PANASONIC A5 SERVO MOTORS
Covering a power range 50 W to 5.0 kW, rated torques 0.16 to 48 Nm, this new servo motor design is lower in weight and protected up to IP67 including the plug connectors. Rated speed is 6,000 r/min and the integrated encoder gives a remarkable 1.04 million pulses per revolution. Brake motors, different inertia values and pancake-type frames are possible.
On request higher powers are available up to 15 kW.
PANASONIC A5 SERVO DRIVES
Three versions of the MINAS A5 servo amplifier are available for analogue control, EtherCAT communication or step/direction pulse input. High speed and position accuracy is achieved from very high response frequency, and auto-tuning gives remarkable stability. Safe Torque Off to performance level PL-d is standard. Supply is 230 V 1-phase up to 1.5 kW, then 400 V 3-phase. Operating software is free.
PANASONIC A5 GEARED MOTORS
The A5 synchronous servo motors can be supplied with Vogel planetary gearboxes to give rated output speeds from 60 to 1,000 r/min in a power range 200 W to 1.5 kW. Rated torques are up to 170 Nm. Backlash can be as low as 2 arcmins, which suits reversing and precise positioning.