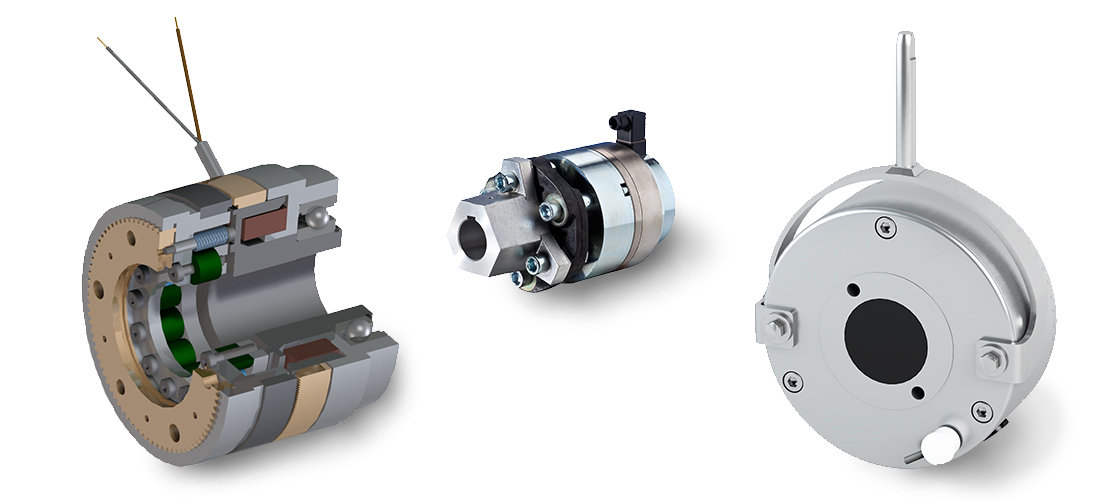 Electrically & electro-magnetically switchable clutches and brakes
Brakes and clutches with short switching times
Electromagnetically actuated clutches and brakes from Lenze Selection are used for starting, stopping, positioning, and securely holding moving masses in place. The clutches and brakes from Lenze Selection are characterised by their reliability and easy handling during installation and assembly.
Our electrically/electromagnetically switchable clutches and brakes:
Spring-applied brakes
Tooth clutches and toothed holding brakes
Electromagnetic clutches and brakes
Clutch/brake combinations
Pole-face friction clutches
Operating principles
Switchable clutches and brakes differ in terms of two basic working principles:
Quiescent current / deenergised:
Braking torque is generated via spring pressure (emergency stop). If DC voltage is applied, the electromagnet releases the brake and the braking torque is deactivated. Spring-applied brakes and/or spring-operated brakes and tooth brakes work according to a "power to release" principle. Power to release brakes with a fitted spring are used as fail-safe brakes.
Working current:
Braking torque is generated via the application of DC current. When the current is switched off, the braking torque is no longer applied. When the clutch and/or brake is correctly dimensioned, it operates maintenance- and trouble-free and guarantees high operational reliability. Electromagnetic clutches and electromagnetic brakes, pole-face friction clutches and tooth clutches work according to a "power to engage" principle.
Products which work based on a torque generated at zero current, i.e. "power to release", are required in safety-relevant applications such as in lifts, hoists, forklifts, and cranes. Products based on a working current such as electromagnetic clutches (synonym for electromagnetic clutches) are used predominantly in automation. Above all, spring-applied brakes are gaining increased attention as fail-safe brakes and holding brakes. This is due to increasing safety requirements and statutory regulations.
Depending on the type, Lenze Selection clutches and brakes are either dry running or oil running models. In order to ensure an error-free mode of operation, greases and oils must be kept away from the friction surfaces.
Depending on the size, the electromagnetic clutch and electromagnetic brake can be installed either in a flange- or shaft-mounted design. For the flange-mounted type of construction, a suitable mounting surface should be available. For shaft-mounted electromagnetic clutches and brakes, the stator is to be secured to prevent it rotating, and should not be tensioned in a rigid fashion. Electromagnetic clutches and brakes are operated with DC current.
Depending on the type, switchable clutches and brakes are particularly suited for applications where
high torques and braking torques (tooth clutch, tooth brake, spring-operated brake)
fast switching times
extremely stringent safety standards are required, or
extreme conditions (pole-face friction clutch)
prevail.
Lenze Selection offers a scalable modular system for switchable and electromagnetically actuated clutches and brakes, allowing an optimal solution to be found for every use case.
Application area / utilisation
Conveyor systems and materials handling technology
Machine tools
Cranes
Hoisting applications
Automation technology
Mechanical engineering
Lenze Selection United Kingdom